Brooklyn Update
Just when I was trying to make up for lost time and keeping these updates fresh, something always comes up. On top of broken camera, broken laptop, I've misplaced my ipod. Electronics hate me right now. What have I done to deserve such treatment, huh?
Here are the pictures from Sulu/NYC Weekend. If you have been eagerly waiting for an update you can blame this guy, the one in the center with the glasses on. No, the one that's not looking at the camera, I don't know why that other guy is smiling and making eye contact, I don't know him. And check the other guy on the right out, ice grilling. This is a distracting picture come to think of it, but it's the current one I have of Les so it'll do.
His name is Les. I borrowed his camera since I still don't have one (my horoscope said that I had to wait until Thanksgiving to buy any electronics, why am I heeding this I don't know) and instead of promptly uploading the pictures I had to wait a couple days and reminding him. I guess I can't really complain, the camera was really nice for him to let me borrow, and he did let me stay at his crib while I was out there. Oh yeah, I also promised Les in return that I'd put him on the blog and that would bring more girls for him. I don't know why I said that, he doesn't need a blog to get girls, just look at him he already kinda looks like a young Tiger Woods.
Just a little bit?
First stop was the Party for Uganda, with Elisa/El Gambina as a feature. It was a quaint little place, kinda reminded me of a house party but it was $20 open bar and for a good cause. Elisa rocked the crowd and the mic anyway. I wasn't quite adjusted to Les's camera's setting which were either too much flash or not enough so I just snapped away a bajillion pictures of her, which I am sure annoyed everyone else. That's the photographer in me. It's really hard to get a good picture so you just have to try every angle to get the shot (I also hate flash and bad composition, so I'm just warning you now that there will be some obscure pictures ahead). The party was going well and everyone seemed to be enjoying their free unlimited alcohol. In Philly we always get a good soul clap going on at the end of a party, so when El told the crowd to put their hands together, I did my part and made the girl next to me go partially deaf in one ear. Oops.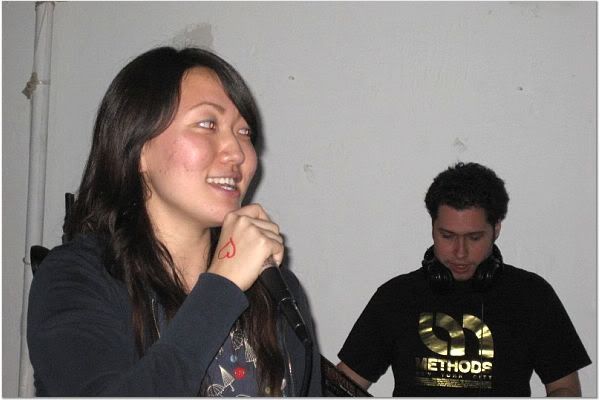 Elisa is taller than some guys I know, like this DJ here. But she also makes men feel small with her mic skills. Don't worry she's not at all hard to the core, peep the little heart on her hand. Next we met up Norm and Rex from the Pacifics who were supporting their fellow Chicagoan DJ Twilite who was spinning at APT. I don't know what it is about being at the bar and drinking, but people just start getting lost in their thoughts.
Norm is concerned if his drink really is a rum and coke...
Les wonders if anyone will call him and checks periodically...
Rex and I play wallflowers but I still can't master the art of hand-held self-inclusive portraits. Oh well. Later we headed over to Kingsize where my friend Meagan works. She is the best bartender around, makes a killer huckleberry cocktail something or other. Perhaps a little too killer, I had such headache the next morning, I couldn't upload her picture. Nor could I make the Pacifics performance and the Organics School 105 party. Those were some strong drinks. I may have to give up drinking for a little bit. Sorry Meagan, but you're still the prettiest bartender in the Lower East Side though. I was worried about whether Rex and Norm made it to the party since I was passed out, so
Cheeks Deniro
who is part of the Organics Thoughts entourage and a talented photographer as well, reassured me with this picture. Haha. It's almost like Rex got caught.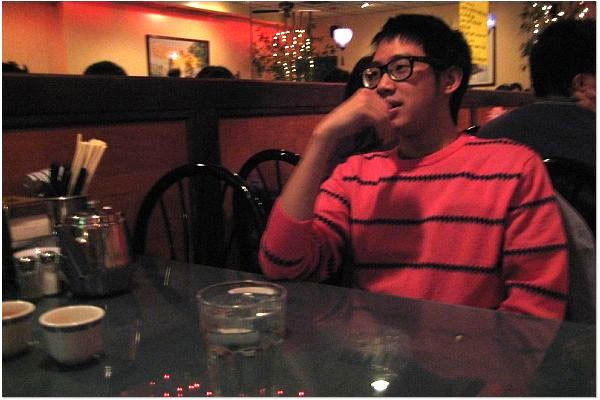 On Sunday, I met up with two talented homies, Anthony and Randy. Anthony is a designer for 10Deep. I interviewed him once for a dorkmag article and we've been cool ever since. Turns out that he was also college buddies with Taiyo and he was into all the Asian American Writers Workshop stuff back when Feedback ran Recollection. He said he had seen and been to some Yellow Rage events before, but for some reason, our lives only crossed in the streetwear subculture world and he still didn't recognize me. Now that we've found each other again, sorta, we've been joking about the number of "conscious Asians in the streetwear game". Anthony is also like one of the only four Vietnamese people I know in NYC, and since I wanted Pho, I made him take me to a restaurant he approved of, Thai Son in Chinatown.
This is Randy on the right, for some reason he, Michelle and Dan are trying to avoid making eye contact. Randy is a filmmaker, his teacher/boss/mentor is none other than Spike Lee. If any of you have seen Inside Man with Denzel Washington and When the Levies Broke, the HBO special about Hurrican Katrina, Randy did work on both. His last name is Wilkins, you can see his name in the credits if you don't believe me. Randy is finishing grad school at NYU where Anthony studied a sociology/anthropology major that has nothing to do with designing clothes, and they both got to chatting. I like when my friends get along.
When we tried to get to Brooklyn, we could not catch a cab for the life of us. One cab pulled up and just as I was had opened the door to get in, he pulled off and turns his "on duty" light off. That bastard almost took my arm off. We spent the next 25 minutes hailing cabs and finally got one. To insure that all of our limbs were intact, we jumped right in and told the driver we were going to Williamsburg, Brooklyn only after we had closed the doors. When we finally arrived, we learned that Giles could not make it, unfortunately. His mother-in-law was feeling ill and he stayed to make sure she was okay. We hope she is well too, Giles. You were missed and our blessings go out to you and your family.
I spent alot of time climbing around, tryin to get a non-flash, non blurry shot. I didn't get too many. But by the time the show was going on my friend Niki arrived with her camera and then the "professional" photographer suddenly showed up.
Derek Srisaranard
, professional photographer. Of course no one told me. No one warned me about the gum under the sound table either. Ewwwww.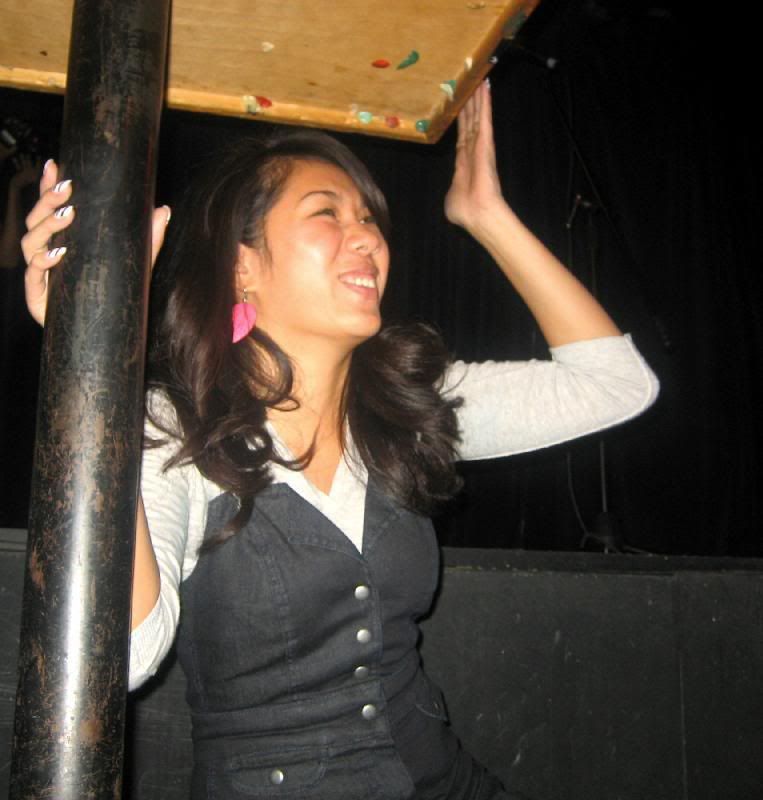 For this segment we'll have comparison photos, though I'm sure the pictures by Derek, the professional, will win. This is Chaz aka Koba. He does too many things to name so you'll just have to visit his page
kobasounds.com
to find out. We just know him as Chaz, a nice guy with mic skills. When I take a picture of him, he's a sound guy.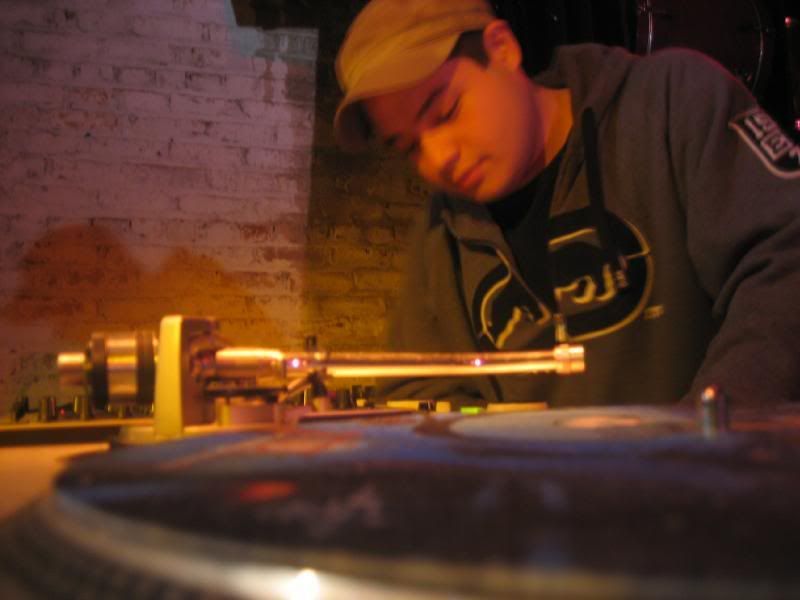 When Derek takes a picture of him he looks more like an MC.
What the hell? I should just quit now.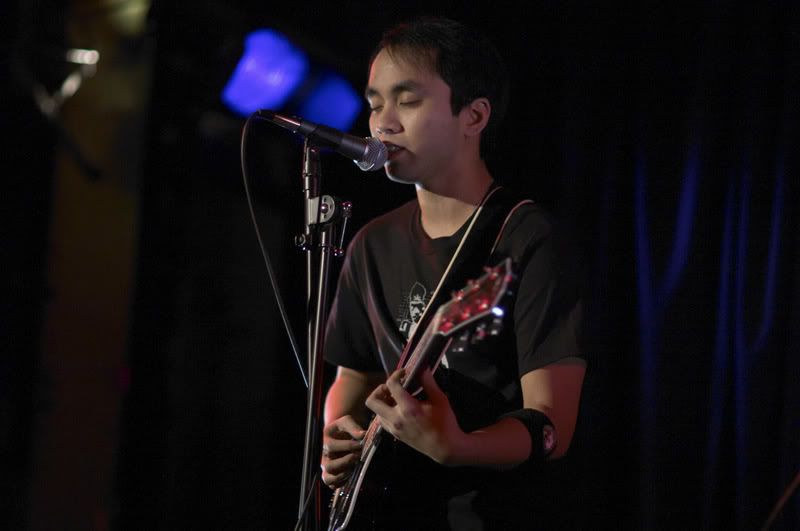 Jay Legaspi
is a singer. He did a quick rendition of a Postal Service song so we thought he was of the indie rock breed, but then he surprised us again when he used Neyo's "Sexy Love" as an intro for his next song which was "R&B" and more his steez. The last song he did, I can't remember the name, was about sweats - as in sweatpants and how he liked his girl in just those. I'm sure if Jay ever got big and his song was played all over, sales in sweats would blow up. I think I will try going out in sweats this weekend and see how many guys notice me. Jay also had the most supportive family members there. Well just one, a female. A sister? A cousin? No matter, she was mad supportive, she even yelled when we were onstage.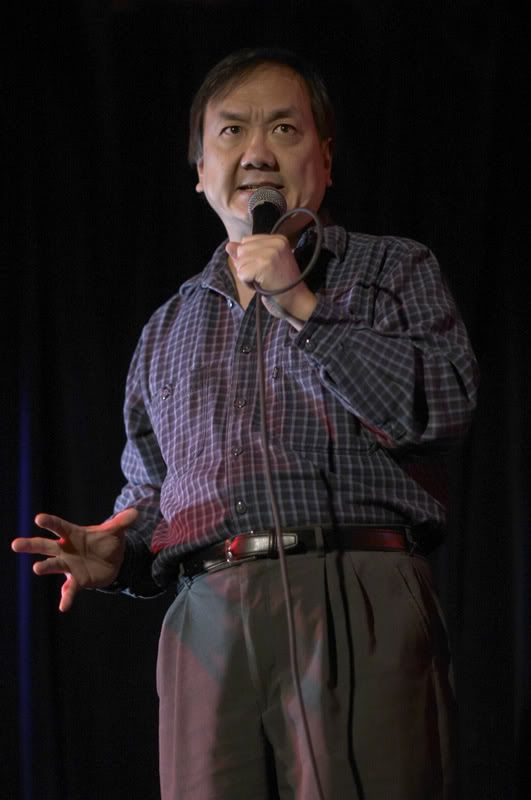 This is our friend Dan Kim, a very funny comedian, accomplished actor and 1/3 of Asians Misbehavin. If he looks familiar, Dan was on Margaret Cho's sitcom "All American Girl". A little bit more of Hollywood gossip - Daniel Dae Kim from "Lost" has to keep the Dae in his name so as not to be confused with this Dan. Haha, how 'bout that for a mix up?
This picture was taken by me. I might have a chance to prove my talents after all. But doesn't
R.A. Villanueva
look so happy when he sings? Just look at the way his feet hold together. Here he's singing a song about in/fidelity and references the marriage of Homer and Penelope from the Iliad. He puts this perspective onto his own marriage and wonders... Nevermind. I'm staying out of this. It just made for a very interesting song. That's my story and I'm sticking to it.
Jason Joseph
is from LA. His sounds are from the same school as John Legend, accompanied with Golden Era hip hop beats. I don't know what or how, but he got the hook up on the sound system and the dramatic lights. Maybe it was because he was using the piano. Or it might've been because MTV was following him here. By this time Les's camera had died, so I was juggling with Niki's camera. Not too clear, refer to Derek's flick for a face shot. He wins.
I figured I'd follow the MTV guy's moves and get the same shots. I guess that sorta paid off, he asked me and Michelle if we'd like to be featured for MTVK, which I think is affiliated with MTV but caters to Korean Americans. I was kinda excited to be asked, but I also clarified that I wasn't Korean, just so they knew, but that Michelle was Korean so we were still qualified. I'm telling you man, Koreans got something on the rest of us. I don't think Derek the photographer is Korean, but he might as well be, just look at his photos...
Arghhhh!!! Feel the power in those words.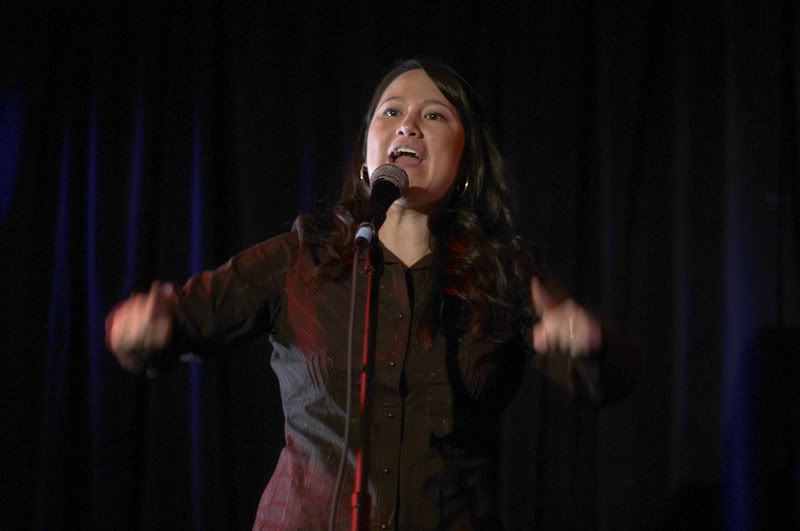 Wow, he really does take great pictures.
Oh snap! An inch more, and I would've eaten the mic.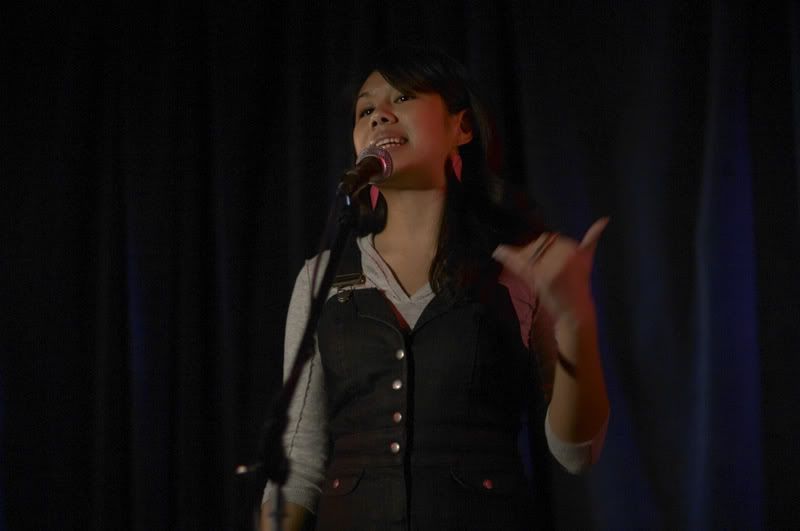 In Hawaii they call this move a shaka.
When our friends take pictures, we get all the unattractive parts highlighted.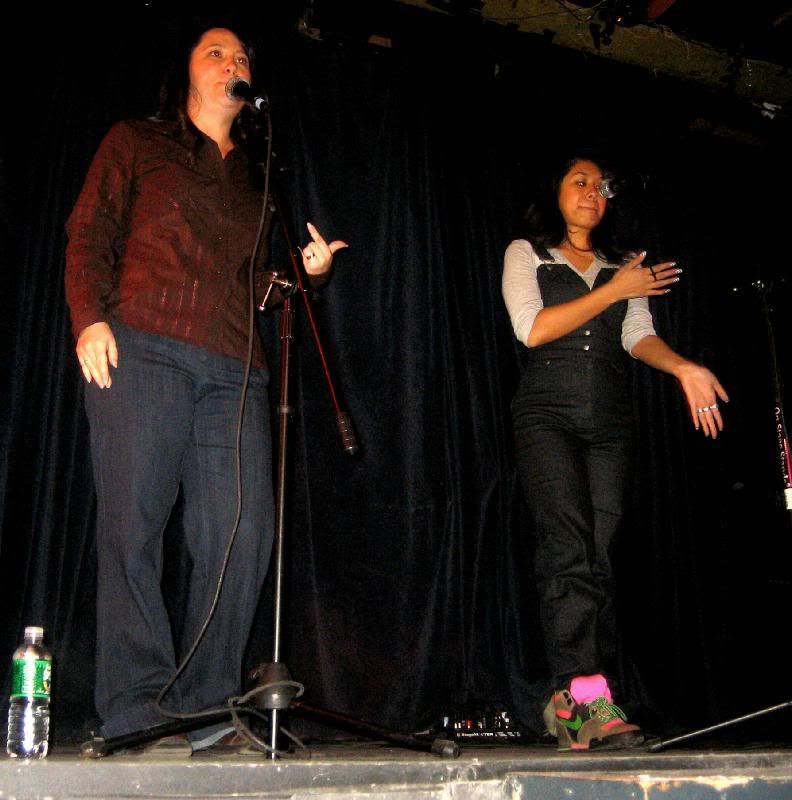 Michelle and I have noticed that while her fingers are short, mine are long. I wonder if anybody else notices, but I guess they will now. Look at me, I'm doing The Robot. I also have a mic in my eye. The only good thing about this picture is that I know if I ever wear my boots at night and walk down a dark road I will be saved by their flourescence.
I will conclude my update with this story.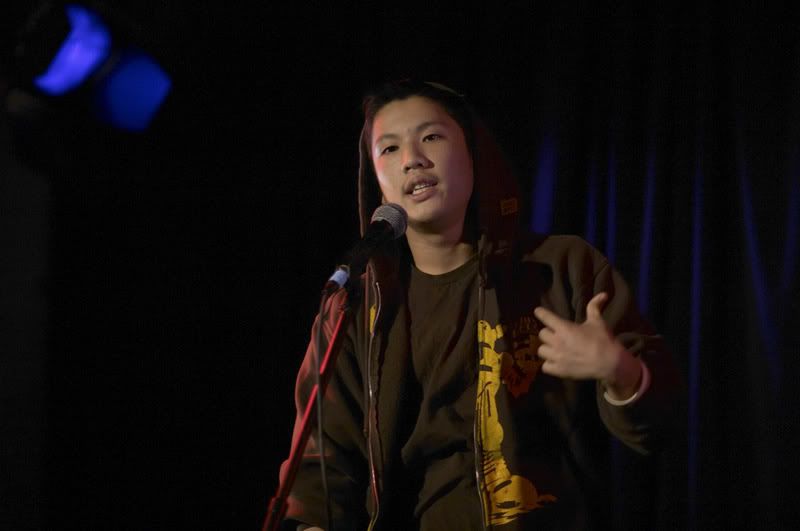 Vinh Hua
, who is a student at the New School in NYC (though originally from Boston) also performed. He's bold. I say this not because he is a young poet, but because he asked me what it was like to be "old". I was sorta perplexed as to what that meant since I am only 26, but Michelle, who is 8 years older than I am and is always happy to let everyone know she's the oldest and wisest in the room, was unphased. He basically explained that Yellow Rage was a part of the first generation of APIA poets with Taiyo, and Giles and Two Tongues who have inspired the next generation of poets, meaning him. I guess that meant that we were old school and he was new. I could appreciate that. YR has been around since 2001 like when many spoken word artists were coming together and for us, those 5 years just flew by so fast, but I guess for other people alot happened. Taiyo co-signed on my deduction and we made a joke about having some sort of Lifetime Achievement Spoken Award Honors thing happen. Hmmm...doesn't sound so bad. But I want a badass Southeast Asian girl to redo my poems, like when Lil Kim did it for MC Lyte at the Hip Hop Honors Award.
I need sleep.
- Catzie